Lionel Messi and the ascent of Barca soccer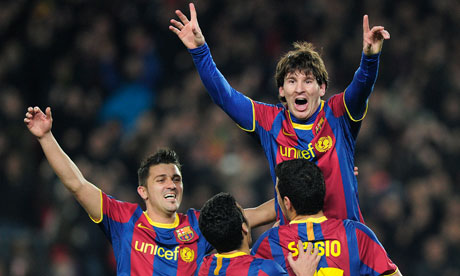 I missed CBS News story on Messi and Futbol Club Barcelona that aired on 60 Minutes last Sunday, the first time a soccer team (football everywhere else) has been profiled on the program. I guess that confirms what we already know: how little the US cares about the sport.
I am a big soccer fan and European, so I find it hard to believe when I hear people say that soccer is boring because the score is usually low. Some of the best matches I've seen ended up 0-0! It's all about the game, the passes, the skill, people filling up stadiums with their presence and chants. It's about rivalries, celebration and disappointment.
Luckily, CBS posted a 15-minute video on their website where you can still learn a bit about the team, their philosophy and training model, which is taught in "La Masia" soccer academy. I did't realize how hard these young players have to work everyday for a chance to become professionals. You will also hear from several soccer players, like Fabregas, Piqué and, of course, Argentinian sensation Lionel Messi, the best soccer player in the world. He was just awarded the Ballon d'Or for an unprecedented fourth straight year.
Finally, there is a brief interview with international Basque goalie Andoni Zubizarreta, who spent six seasons playing for Athletic de Bilbao (1981-1986) and who now works as FC Barcelona's director of soccer.
I am still hopeful that, one day, soccer with take over the NFL.
Hey, dreaming is free.
Related posts
Ibai Gómez: An interview with one of Athletic's youngest stars
The best part of the game
The Lions of Bilbao: A view from the outside
Once again, Athletic gets a jab at his 'Basque-only players' philosophy
Athletic de Bilbao vs. Barcelona Fútbol Clu: King's Cup final